Five Breathtaking Cenotes in Cancun, Playa del Carmen, and Tulum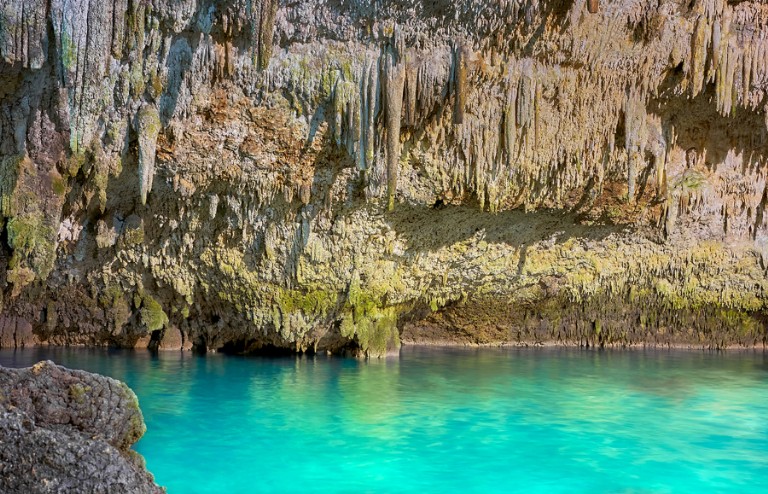 July 7, 2023
Your Adventures Never Have to End!
Let us offer a little background about this phenomenon, primarily if you have never heard of the word "cenote" and especially if you don't yet know what a "cenote" is. Cenotes are deep wells of fresh water that were born due to the collapse of limestone rock, thus causing these impressive sinkholes that fed the filtration of rain and the currents of the rivers. Due to the region's geology, many cenotes exist in Mexico's Yucatan peninsula. Here we'd like to offer a few options if you want to visit some of these fantastic cenotes!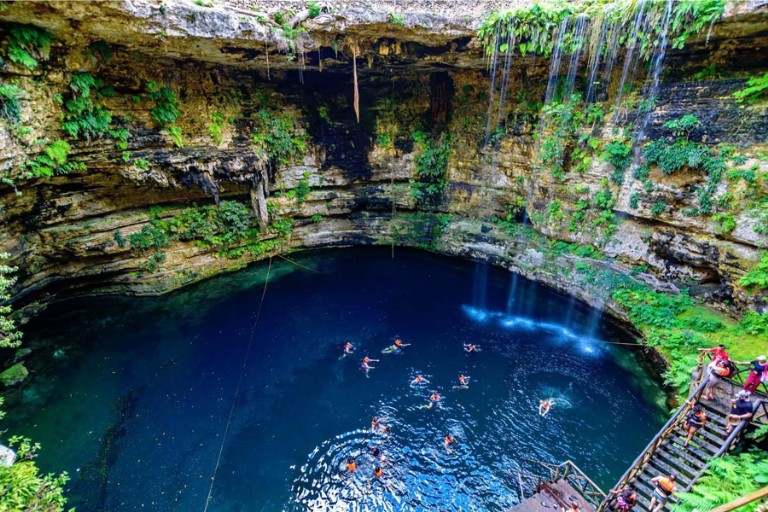 Dos Ojos (Two Eyes)
Dos Ojos is part of a flooded cave system located north of Tulum, on the Yucatán Peninsula's Caribbean coast, in Quintana Roo. This cenote takes its name based on two nearby sinkholes or "pools" that connect into a yet grander cavern of crystal clear waters joined by a corridor about 400 meters long. Dos Ojos is considered the most extensive underwater cave system in the state and is incredibly popular with scuba divers and anyone who wants to put on a life vest and take a swim.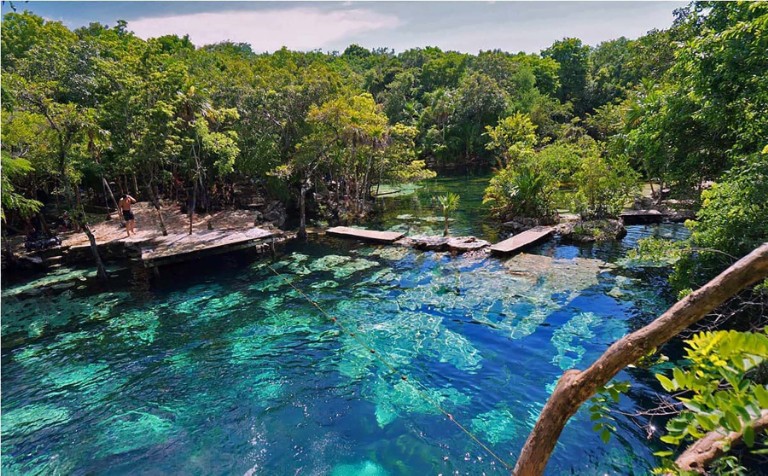 Cenote Azul Riviera Maya
The Cenote Azul is among the most popular in the Riviera Maya, with turquoise blue waters being just one of its many attractions. This location is perfect for the whole family as more shallow areas work well for those with small children. In addition to the cenotes, you will also find a natural outdoor swimming pool area, providing both a shallow and a deeper place. Another great feature is that you can bring your food (lunch bag) to the site for lunch; however, the site doesn't allow alcoholic beverages.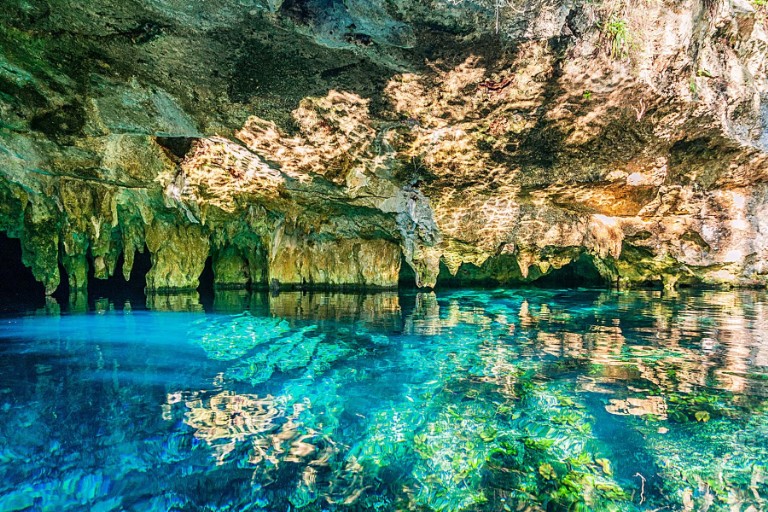 Grand Cenote Tulum
This location is perfect for swimming and diving, exploring underwater caves, and checking out stalagmites and stalactites. You can visit many shallow areas with the little ones if you have younger children. An exciting adventure everyone enjoys is snorkeling with the turtles and exploring some underground caves. The Mayan people consider these waters sacred, and although you can visit its underground cavern, it's important to remember the significance of being in this unique location when you do.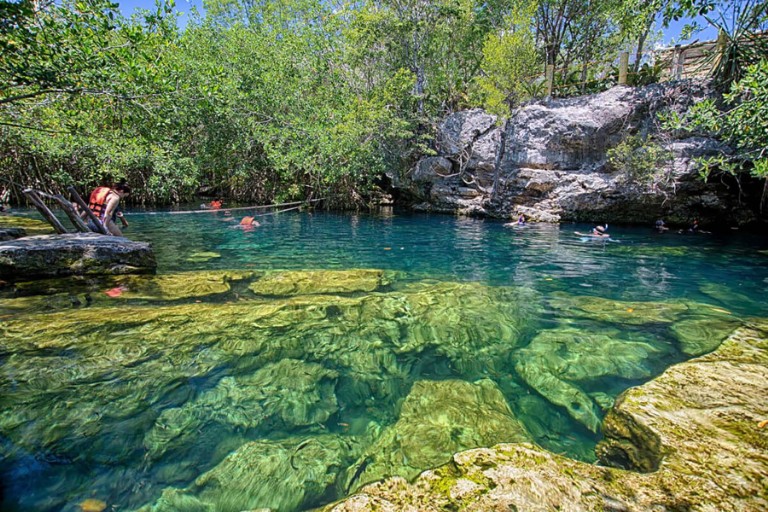 Cenote Cristalino
Found in Playa del Carmen, between Cancun and Tulum, this little piece of heaven is worth a visit. Not only is this location a paradise, but it is also a great escape from the heat of any day of the week. This location has many lush green areas. In addition, it offers deep, cold cenotes with moving currents that are always perfect on these hot days. Although food is allowed, it's always essential to help clean up. With many unique species and creatures around us, we ask that you please toss your trash in the proper areas.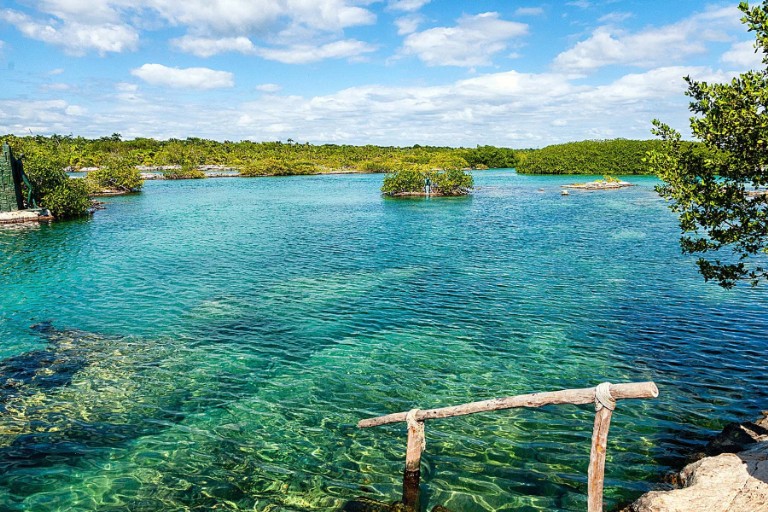 Yal-Ku Cenote and Yalku Lagoon
Open every day of the week, this very special Cenote and Lagoon visit is slightly different from others. You will find benches and paths as you explore crystal clear waters and extraordinary sea life. This special place isn't closed off but is an actual outlet to the sea. You'll find very differently colored fish and amazing sea turtles. The beautiful sounds of the birds, as they sing the day away, are peaceful and joyful at the same time. The flora and fauna are lush and well worth visiting in this unique paradise; you won't be disappointed.
With so much beauty in our incredible destinations, seeing everything we offer in just one visit is impossible. However, we will always be here waiting for you, visit after visit. Cancun, Playa del Carmen, Tulum, and all our fabulous destinations await you to revisit us again and again.