Interesting Facts about the Cancun Beaches!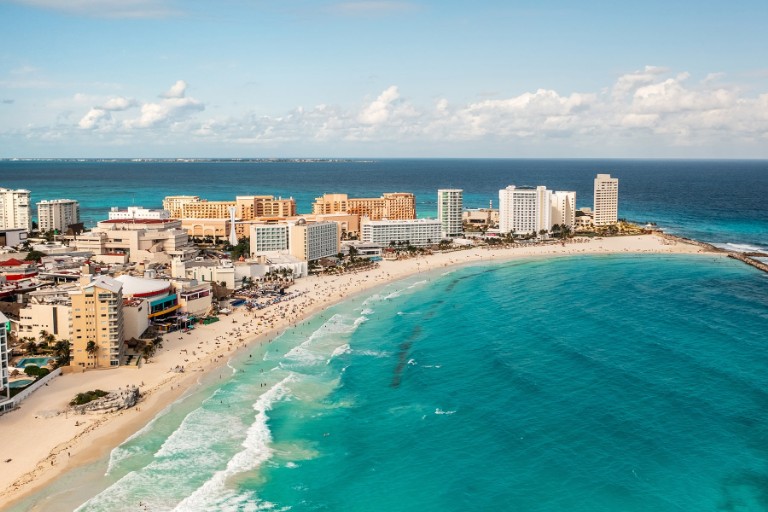 October 4, 2022
The Beaches are Free - Yes, all the public beaches in Cancun are free! You can walk on them all day or take your towel with you to lay down in the sand. Please note, the hotel beaches are not free, but there is plenty of beach space in the 22.5 kilometers (14 miles) of the Hotel Zone to find a spot to relax.
The Sand is Always Cool and Walkable - How can that be, you ask???? Well there is actually a pretty "cool", simple answer to this. The reason why the Cancun sand is always cool is because the color reflects the sun as opposed to absorbing it. In addition, 70% of this sand is composed of defected pieces of coral expelled by Parrotfish. Don't think too much about it and just be happy that you can take those long walks on the beautiful Cancun Beaches!
The Cancun Hotel Zone is Shaped like a 7 - The Hotel Zone consists of what we call the "open sea beaches" such as Playa Gaviota Azul, Playa Ballenas, Playa Marlin, Playa Delfines or Playa Caracol, being the long part of the "7" where you find beautiful blue water as far as the eye can see. The top of the "7" is part of the "calm sea beaches." The public beaches in this area are Play Las Perlas, Playa Chac Mool, Playa Linda and Playa Langosta and Playa Caracol. In this area the water is calm as opposed to wavy due to the fact that sitting across the water is where you'll find Isla Mujeres. The Island of Isla Mujeres is a barrier of sorts from the winds and waves. Give both sides a try and see which you like best!
Can I Snorkel off the Shore? Unfortunately, snorkeling off the shore in Cancun doesn't lend itself to great snorkeling unless you choose to take a shared or private tour locally. Another option is to take a 30 minute ride South to Puerto Morelos and you can enjoy free snorkeling off the shore in between the buoys. The water is shallow and generally calm.
The sun is STRONG!!! The sand is cool and the water is gorgeous, however, don't forget the sun is VERY strong. Make sure you wear plenty of good quality sunscreen (preferably one that is friendly for the environment). You will see many people swimming or snorkeling with t-shirts or long sleeved beachwear which helps to avoid a lot of sun pain on the next day. Keep your skin safe, wear a hat or a visor and enjoy your trip!