Our Top 5 of the best beaches you must visit in Cancun and Riviera Maya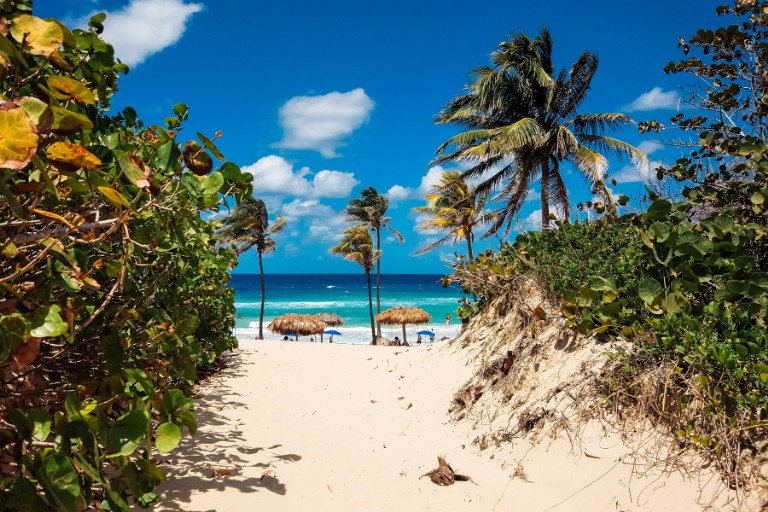 September 14, 2023
All you need is a beach towel, sunscreen, and a hat, and you're on your way.
When people ask, "What's the BEST beach to go to" we always ask the guest what they love to do at the beach. Is it lying on the beach, walking along the shoreline, or rolling in the waves? Here are the top beaches we recommend during your fantastic vacation in our destinations.

Playa Delfines
Playa Delfines Beach (Dolphin Beach in English) is the most popular beach in Cancun, with easy access to the beach and plenty of space for everyone. This beach is 4 Kilometers long or about 2.5 miles. However, it is also one of the most impressively beautiful beaches. Here you will find incredibly blue turquoise waters that are very camera-worthy! Our visitors always comment on how beautiful our white sandy beaches are, but many are unaware that the color of the sand is so lovely and soft because more than half 50% of the sand in Cancun is crushed coral! If you're staying in Cancun directly, this is a beach you may visit a few times during your stay! In addition to swimming and floating in the water, the beach is very nice for snorkeling. However, please don't touch the beautiful coral reefs, they are pretty delicate, and we would love to have them for years and years!

Playa Tortugas
Located next door to the Casa Maya Hotel in the Cancun Hotel Zone, this beach is well worth visiting. The calm, shallow waters allow visitors of any age to sit in the shallow waters while enjoying the cool temps of our beautiful blue sea. You'll note some people even wake up early to watch the early hours of our sunrise in the morning. Locals and tourists love to sit in the morning with a cup of coffee to take in the morning's peace. Many more enjoy the later hours when kids play on the equipment, run in the sand and make sandcastles for all to see. You will love spending some time visiting Playa Tortugas.

Playa Puerto Morelos
Approximately 40 minutes from Cancun, you will find the fabulous village of Puerto Morelos. This village is very "chill" with a lovely beach and many little places to eat and drink. There are several great restaurant choices as well as casual spots. As it is more like a village than anything else, getting in your car for a ride is less necessary than you would expect if you stay in town as most people walk everywhere. If you're visiting just for a day, you can find parking on the streets quickly during the week, but on the weekends, it can get a bit more crowded. Just note Puerto Morelos is less of a "party" town than some others. Generally, by 11:30 or so, this little pueblo gets quiet and serene.

Playa Xpu Ha
A lovely beach you shouldn't miss while in the Riviera Maya is Playa Xpu Ha. It's approximately 15 miles south of Playa del Carmen, making it a relatively quick ride. The first question anyone asks when we speak of Xpu Ha is, "How do you pronounce that?" Just remember the "Xpu" part sounds like "sh- pu" and the "ha" is just that. It's simple, so you'll get used to it quickly. At this location, there is a smaller-sized beach that is excellent for swimmers who like to stay in calm waters, and as per so many of our destinations, our unique sand that barely gets hot under your feet is a unique feature. With deliciously fresh seafood, this is a great location to have a bite to eat. If you plan to spend the evening dancing the night away to live music, there is a Beach Club you can visit for a few.

Half Moon Bay In Akumal
This extraordinary destination, Half Moon Bay in Akumal, should be on your list of places to visit. You will love this visit if you want to learn about sea turtles and other aquatic creatures. Since being designated an official marine preserve in 2016, Half Moon Bay no longer allows fishing or motor sports of any type in the bay, that includes boats. Regardless of that situation, Akumal has become a MUST visit for anyone who wants to look up close and personal with sea turtles and other underwater creatures and fish. The snorkeling at this location is excellent. You can snorkel and experience all the joy of following the incredibly diverse and colorful fish and other creatures that swim in our beautiful waters. An exciting event that happens each year between May and October is the arrival of the loggerheads and green sea turtles as they lay their eggs on the Half Moon Bay beaches and the surrounding areas. Combined, they lay approximately 70,000 eggs per year. We recommend visiting Half Moon Bay in Akumal if you get a chance!