Seven Fantastic Adventure Tours You Shouldn't Miss While in Cancun
December 26, 2022
Fantastic Adventure Tours You Shouldn't Miss While in Cancun
It's easy to find time for these gems!!
No matter where you are visiting us from, Cancun and other towns such as Playa del Carmen and Tulum have so much to offer. We've compiled a list of the top five places to visit during your stay. With everything from white sand beaches to exotic Mayan Ruins, there is something for everyone to enjoy and experience!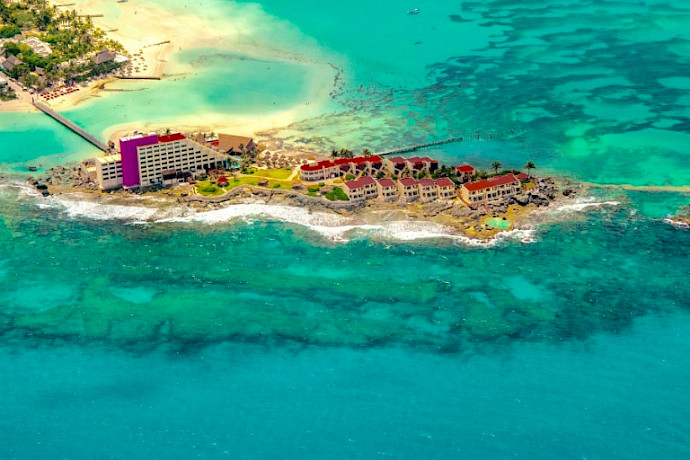 Isla Mujeres Sail Away Platinum - If spending time in the crystal clear waters of Cancun sounds just perfect for you, this tour is exactly what you are looking for. Your day begins when you board a Luxury Catamaran that will have you sailing on the bright blue waters of the Caribbean Sea. As you enjoy your time on the catamaran you'll enjoy a premium open bar and snacks, and maybe even snorkel if you prefer. The perfect first stop occurs for snorkeling at an underwater sculpture garden as well as a visit to a section of the largest reef in the Americas. Fun experiences abound when you get to ride through the air on the spinnaker! Once you arrive at Isla Mujeres you will be taken to a VIP beach club where you can enjoy an open bar, buffet, and more, it's an amazing experience. The return trip has you returning at dusk as you watch the stunning view of the water and the clouds. The buffet includes a salad bar, tacos, rice, pasta, mashed potatoes, steamed vegetables, beans, and fruits. The open bar includes Tequila, rum, vodka, beer, soft drinks, juice, and water.
CHICHEN-ITZÁ - While staying in Cancun and Playa del Carmen, the NOT-TO-BE-MISSED trip you'll be so glad you took is a visit to the ancient ruins of Chichen-Itza. It is considered one of the most important city-states in pre-Hispanic America and is one of the most visited archaeological sites in Mexico today. It was named one of the New 7 Wonders of the World by UNESCO in July 2007. Open daily for visitors from all over the world, this magnificent masterpiece is a great experience for adults and children alike. Technically there are a total of 26 Mayan ruins to see while at the site, however, the most popular "don't miss" sites would be El Castillo, El Caracol (also known as the Observatory), The Temple of the Warriors, and the Mayan Ball Game Court. Another stop on this journey will take you to Valladolid, a charming, traditional Mexican town where you can find the warmth and beauty of Mexico. We have green areas, a traditional temazcal, which is a type of sweat lodge that originated with pre-Hispanic indigenous people in Mesoamerica, arts & craft shops to purchase the perfect souvenir, plus our Ix Chel Restaurant which pays homage to the Mayan cuisine. This visit is organized in a way to make sure you see all the sights as well as get you back to your hotel in time for any evening activities you may have!
ALLTOURNATIVE Native Park - Puerto Morelos - Enjoy an aquatic adventure and discover incredible marine life in two snorkel sessions at different reefs in the Puerto Morelos National Park, the largest coral barrier reef in the Americas. Discover an undersea world inhabited by beautiful multicolored fish and spectacular coral formations. Learn about our local biodiversity thanks to the teachings of your specialized guides. Relax in the beach club as you enjoy a delicious American or traditional style breakfast (depending on the time) and an open bar. Enjoy the best snorkeling adventure in the Riviera Maya!
Includes: Specialized guide, Snorkel equipment, Towels, Guided visits to two different reefs, Adventure insurance, American breakfast or Traditional Lunch, Open bar, Hammocks, Volleyball and Soccer courts and Cornhole boards
Recommendations: Bring comfortable shoes, bathing suits, light clothing, rash guard shirts, a change of clothing, money in cash, or a credit card for the purchase of souvenirs and photos. The use of sunblock is not permitted, even for those identified as being biodegradable. Important: this expedition could represent overexertion for persons with disabilities and/or future mothers. Children may enjoy the expedition if they are aged 6 and over. Persons under the influence of alcohol or toxic substances are prohibited from participating. For safety, hands must remain free at all times, and as such we do not allow the use of photographic cameras (including mobile devices like cellular phones and tablets) aboard the boats unless they are "Action Cam"-style (Go Pro) cameras, provided they are affixed during the whole excursion to a chest or head mount. This tour could have certain restrictions due to weather or operational conditions.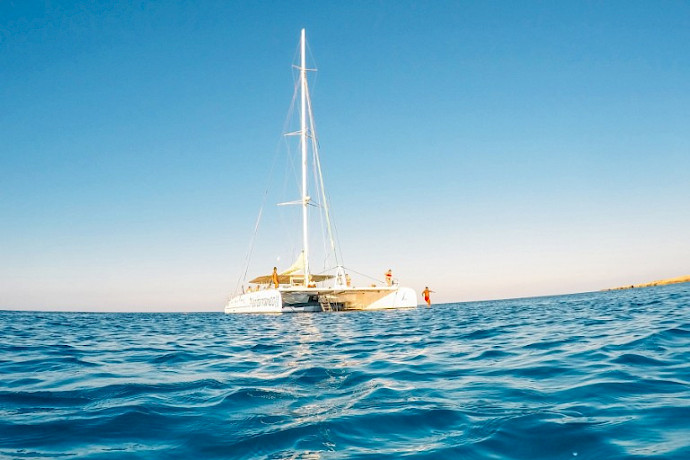 MARINA SUNSET PRIVATE YACHT TO ISLA MUJERES - Sail in style in a luxury private yacht through the beautiful Mujeres bay, go snorkeling at the reefs or the subaquatic museum and then anchor your yacht at the world-famous Punta Norte beach of Isla Mujeres. From here you can get off the boat and walk around the quaint Isla Mujeres downtown, go for lunch at one of the many beach clubs in the area or have the captain get the fisherman to prepare you a great ceviche (seafood salad) on the spot. As the boat is private, just for you and your friends, you decide your itinerary according to the number of hours you have reserved, from 4 to 8 hrs, you choose!
SUNSET LOBSTER CRUISE - The incredible Caribbean Sea is one of the most extraordinary destinations for couples, weddings, and anniversaries, especially if you are looking for a romantic tour in Cancun. This lovely evening event will give you the option to either travel on the earlier Sunset Cruise or a bit later in the evening on the Moonlight Cruise. While you watch the sunset or nightfall with your partner you can enjoy the peace and beauty that surrounds you. You will enjoy the magical scenery while on this majestic Spanish Galleon Columbus Cruise as well as the beautiful sounds of the saxophonist. The panoramic evening views are not to be missed. These are memories that will last a lifetime!
ENJOY NATURE WITH UNIQUE ACTIVITIES ONLY AT GARRAFON PARK! - Garrafon Natural Reef Park is well known all over the world for its astonishing reefs and cliffs in front of the turquoise waters of the Mexican Caribbean Sea. Just a short 25 minutes from Cancun, on the beautiful island of Isla Mujeres, this reef park offers recreational activities such as snorkeling, kayaking, and zip-lining as well as tours throughout the island. Of course, there is always time for relaxation as well such as a Mayan sauna, also known as a Temazcal, or some simple relaxing by the pool on a lounge chair. There is something for everyone at Garrafon Natural Reef Park!
TULUM, CENOTE & TURTLES - This amazing event is a Riviera Maya tour of the best attractions in the region! Here you will find history, culture, nature, and adventure. The "Tulum, Cenote, Turtle" tour truly has it all. The day begins with our cultural adventure in the magnificent archaeological zone of Tulum. Our guides will give you a tour inside this walled city, a walk full of history, where you will find incredible exclusive views. After your visit to the ruins of Tulum, you will enjoy a swim in the refreshing waters of a sacred cenote, a unique landscape of a Yucatan cave carved into the limestone over millennia.
Next up, is a delicious regional lunch of Yucatecan dishes after your cenote swim so you can refuel and savor the exciting flavors. After lunch, you will head to Akumal Bay where you will swim with sea turtles in their natural habitat, a natural encounter that you will never forget.
To conclude your day you will make a brief stop at a real glass factory, to observe the creation of authentic handcrafted pieces and then to the chocolate museum for a tasty sweet treat.
This day will provide you will a lifetime of memories and smiles. Enjoy!!!
Take a look through all the options and let us know which of these exciting adventures you'd like to experience while on vacation in Cancun, Isla Mujeres, Riviera Maya, Tulum, and even the ruins of Chichen Itza! You can reach us daily from 9.00 AM to 5.00PM to discuss your options and what works best for you! We can't wait to see you!
Carlos Wer Senior Customer Service Rep
US Phone. (Whatsapp) (954) 998-7743
Fernando Flores Senior Customer Service Rep
US Phone. Whatsapp (954) 516-7864